Exhibition Stand Booth- Customize and Modular/Portable
Exhibition Stand Designer, Builder & Contractors in Dubai UAE
Exhibition stand contractors in Dubai are a must-have for any event and exhibition. They provide us with the most suitable exhibition layout, ensuring that our booth is looking as perfect and professional as possible. Exhibition stands in Dubai are available in many styles, sizes and shapes. Whether you need a temporary or permanent exhibition stand, you will find an exhibition contractor right here with NS Events and Exhibitions Fzc. The exhibition booth design should be catchy and attractive so that it can attract people's attention and make them want to come in for more information about what you're promoting. Exhibition stands are becoming a necessity for companies to gain visibility during exhibitions. The criteria for designing the perfect stand depends on the company and on their resources. Exhibition stands are typically found at trade fairs, exhibitions, or other events where the exhibitor wants to show something to the public. Exhibitions are an excellent way to get your product or service in front of potential clients and customers. However, without the right exhibition stand contractor, you may not be able to maximize your potential revenue streams. As a result, it is important that you take the time to find the best exhibition booth design in Dubai and an experienced exhibition contractor and builder in Dubai.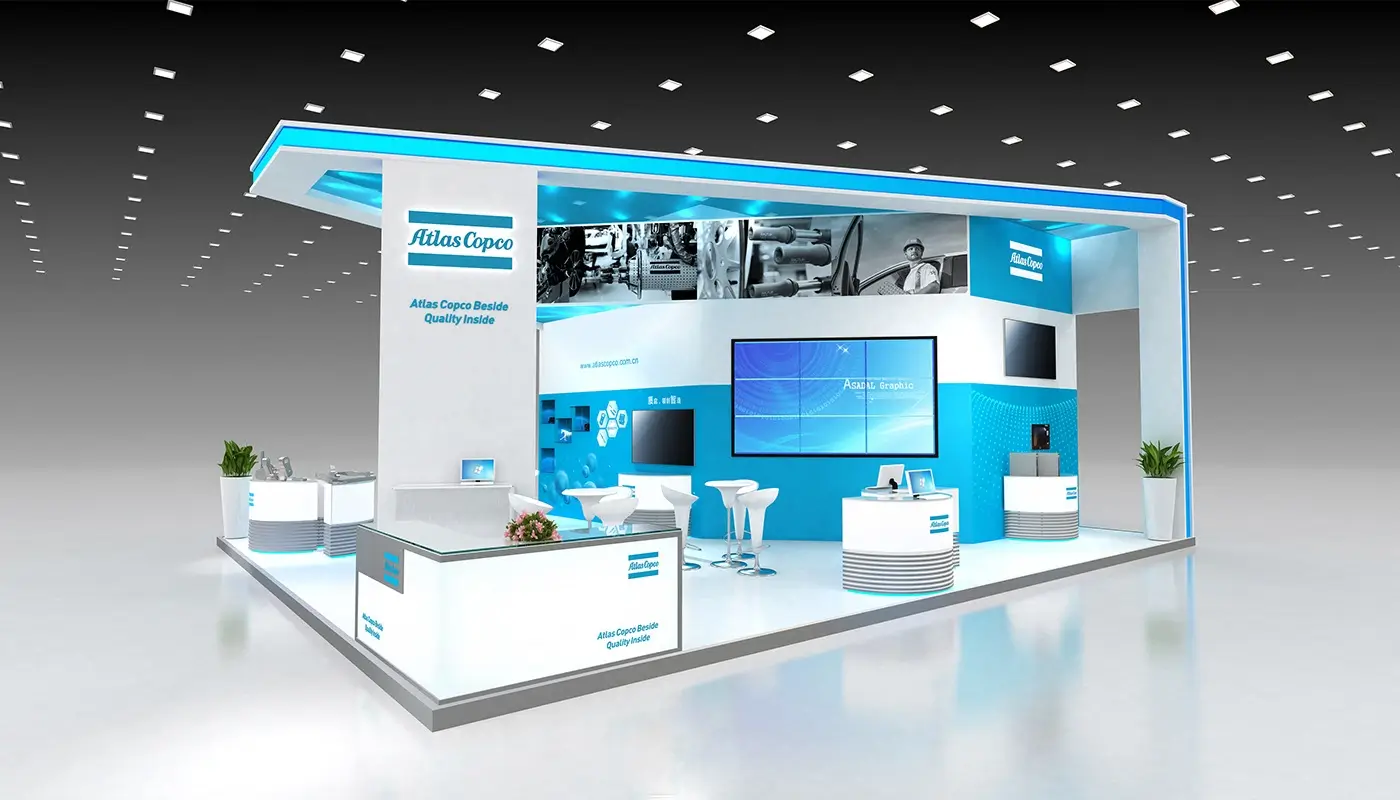 We specialize in custom exhibition displays, modular stands and portable pop-up displays
Exhibition booth design is a very important aspect of any exhibition. The design should be attractive and should also have a good flow so that the visitors can easily move around the booth. The exhibitors need to make sure that they have sufficient space for all their products and services. Exhibition stand builders are responsible for graphics designing, constructing, and installing exhibition stands. We offer a wide range of designs for different types of exhibitions so you can choose one which suits your need the best.
The number of corporate exhibitions has grown exponentially over the past few years. There are various reasons for this – from being a part of marketing strategy to peer-to-peer sharing between companies. Exhibitors need to think about the design of their exhibition stand from the very beginning. It is essential for them to invest in a good exhibition stand builder who can help them create a design that will look good and attract visitors.
Exhibition stand booths not only need to attract visitors, but they also need to help organizers make a good impression by facilitating smooth communications and seamless event management. With our end-to-end services, we can ensure you are served by experienced professionals that can cover all your exhibition booth needs.
Our K E Y S – knowledge, experience, and yes, service – have enabled us to create exhibition stand booth packages that meet your needs. We work with you to find the best of all worlds: Total modularity, quick turnaround times and flexibility, combined with highly innovative design solutions. Our outstanding service team will take care of everything for you, end-to-end.
With an assortment of color and material options, our exhibition stand booth can be customized to a variety of applications. Our modular design allows for easy custom configuration while remaining lightweight and portable. The customizable fabric graphics can be printed with high-resolution photo-quality images, allowing you to realize your design concepts while providing the durability necessary to withstand the wear and tear of any trade show environment.
We design and manufacture exhibition stand booths with end-to-end services
With a great reputation which has helped us in getting recognized as one of the best exhibition stand fabricators in Dubai, our first priority is making sure your brand gets noticed for all the right reasons. For this reason, our Dubai exhibition stands design company teams are trusted by many to provide unique floor plans and designs. Our talented design team and engineers create an innovative exhibition that fits your brand identity beautifully.
We create a signature design of yours, we believe you can make a difference in the world with a winning & sparkly idea of an exhibit booth. Those who have extensive backgrounds in this business understand how important it is to have a quality building. We have a professional team that specializes in fabricating exhibition stands in Dubai, while also managing them properly. NS Events and Exhibitions is one of the best Dubai stand builders that has gained the best confidence from customers. Therefore, you can expect the best quality and services to participate as an Exhibitor at the Exhibitions in Dubai. As an exhibition stand contractor in Dubai, we are experts in this field and they ensure that you get the best service at an affordable price. NS Events and Exhibitions Fzc is a exhibition company in Dubai that offers Exhibition and Event Management Solutions. By partnering with the best contractors in the region, we help businesses spread their message and connect with their customers.
Our complimentary 3D booth design process is based on layout briefs received from our clients
Our display booths, 3D models, and floor plans that we show at workshops, awards, and exhibitions have been thoughtfully designed and professionally manufactured by us with infinite patience. We were born with the exhibition industry in our blood and for us displaying your products offers a great opportunity to let you see a whole new world of possibilities.