Exhibitions and trade shows are great ways to showcase your brand, products, and services to potential customers and industry peers. However, with so many businesses vying for attention, it can be a challenge to make your exhibition stall stand out from the crowd. Here are some creative exhibition stalls marketing ideas to help you grab the attention of visitors and make a lasting impression.
Create an Engaging Theme
A strong and visually appealing theme can make your exhibition stall more memorable and inviting. The theme should be aligned with your brand and communicate your message in a creative way. You can use graphics, colors, props, and even interactive elements to make your theme stand out. For example, if your brand is focused on sustainability, you can create a nature-inspired theme using recycled materials and live plants.
Use Eye-Catching Graphics and Signage in Exhibition Stalls
Graphics and signage are essential for making your exhibition stall visually appealing and attracting visitors. Use high-quality graphics, bold colors, and large fonts to make your branding and messaging stand out. You can also use interactive signage or digital displays to engage visitors and provide information about your products or services.
Offer Engaging Activities and Giveaways
Offering engaging activities and giveaways can create a buzz around your exhibition stall and draw visitors in. You can provide free samples, demos, or product trials to encourage visitors to interact with your brand. You can also organize competitions, games, or quizzes related to your products or industry to create a fun and interactive experience.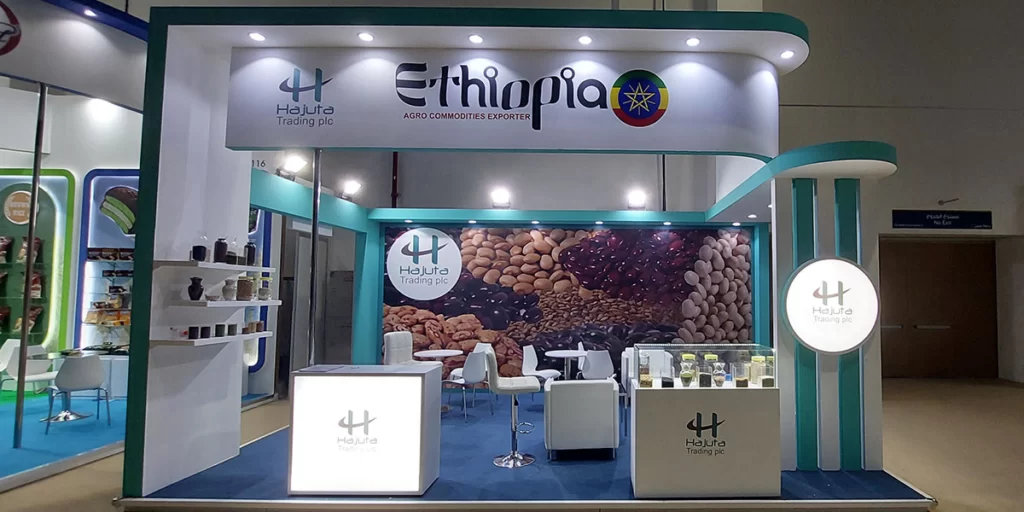 Host Informative Seminars or Presentations
Hosting informative seminars or presentations can establish your brand as a thought leader in your industry and attract visitors who are interested in learning more about your products or services. You can invite industry experts or company executives to speak on relevant topics and provide valuable insights to visitors.
Use Social Media to Promote Your Exhibition Stall
Social media can be a powerful tool for promoting your exhibition stall and reaching a wider audience. Use your social media platforms to share information about your participation in the exhibition, showcase your exhibition stall, and provide updates on any special activities or promotions you have planned. Encourage visitors to follow you on social media to stay informed about your brand and products.
Utilize Technology
Technology can be a great way to create an immersive and interactive experience for visitors at your exhibition stall. You can use virtual reality or augmented reality to showcase your products or services in a unique and engaging way. You can also use touch screens or interactive displays to provide information about your brand and products, or even run contests or games.
Provide Comfortable Seating Areas
Providing comfortable seating areas can create a welcoming environment for visitors to your exhibition stall. This can be especially important for trade shows that can be tiring for visitors who spend hours walking around. You can create seating areas that align with your brand's theme and provide a space for visitors to rest and recharge.
Collaborate with Other Brands or Industry Peers
Collaborating with other brands or industry peers can help you reach a wider audience and create a unique and memorable exhibition experience. You can co-host a seminar or presentation, showcase complementary products or services, or even create a joint exhibition stall that showcases the strengths of each brand.
Use Light and Sound to Create an Ambience
Using light and sound can create a visually and audibly stimulating environment for visitors at your exhibition stall. You can use creative lighting techniques to highlight key elements of your exhibition stall or draw attention to specific products or services. You can also use sound effects or music to create a mood that aligns with your brand's theme.
Follow Up with Visitors
Following up with visitors after the exhibition can help you establish long-lasting relationships and convert leads into customers. You can send a personalized email or message thanking them for visiting your exhibition stall, providing additional information about your products or services, or even offering a special discount or promotion.
In conclusion, there are many creative exhibition stalls and marketing ideas that can help you stand out from the crowd and create a memorable and successful exhibition experience for your brand. By utilizing technology, providing comfortable seating areas, collaborating with other brands or industry peers, using light and sound to create ambiance, and following up with visitors after the exhibition, you can create a lasting impression on visitors and establish your brand as a leader in your industry.
Read More Articles
✯ Importance of Exhibition Graphics Printing in Dubai
✯ Excelling at Tradeshow Exhibitions
✯ How To Find The Right Exhibition Company